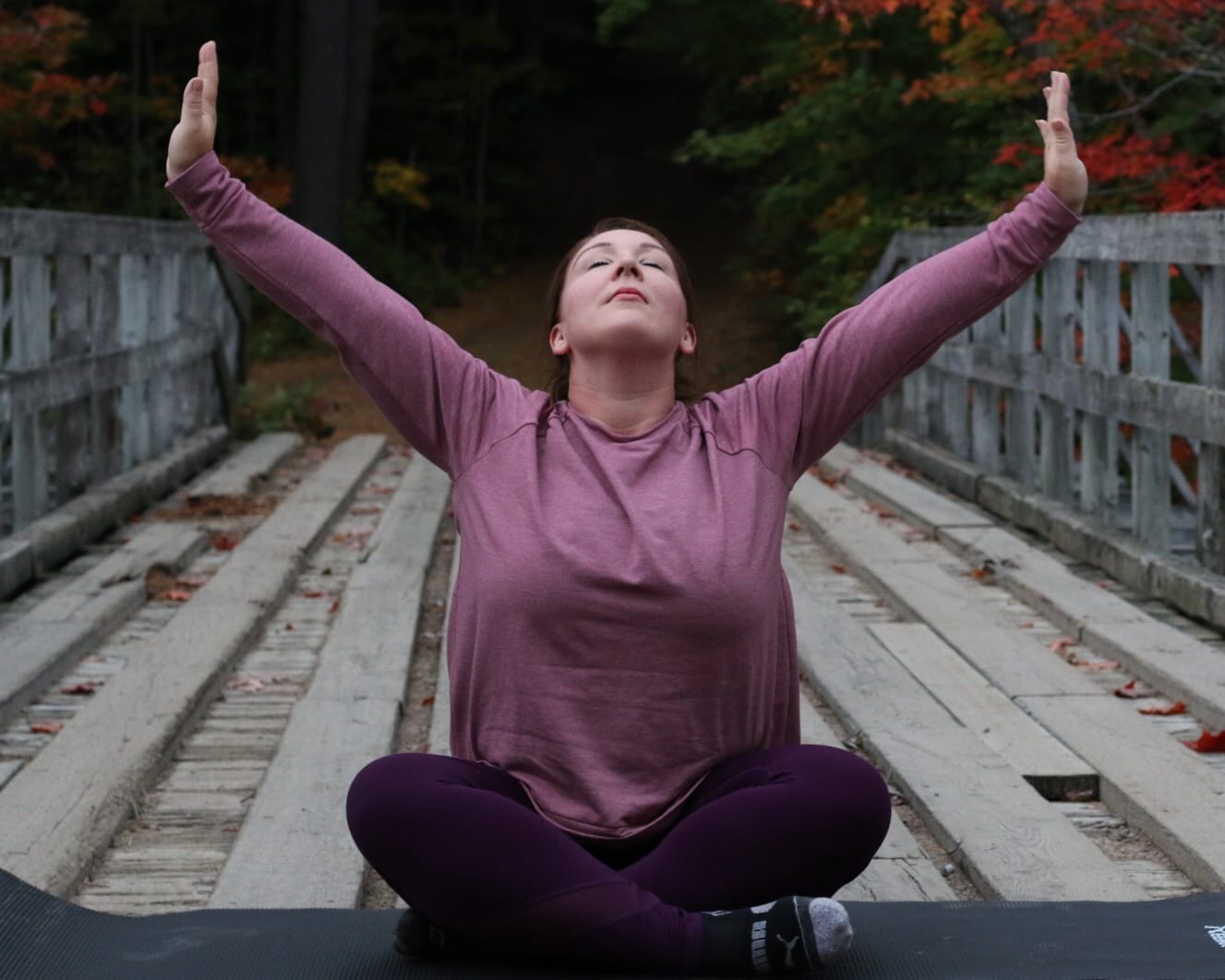 I love the outdoors, but even I sometimes need an extra push to leave the load of dishes, hamper of laundry, and/or kids that always need something.
Unplug. Move my body.
Clear my mind.

We're in this together!!!
There are hundreds of incredible outdoor activities that you can participate in throughout the year. From cross country skiing and ice fishing in the winter. Paddling and rock climbing in the spring and summer. Hiking and hunting in the fall and so many more. In this post, I am focusing on simple, at-home activities you can do to get outdoors every single day. The time between laundry and meals or while the kids explore nearby.
1. Stretching-
Moving your body does not have to be perfect or intense. Lean into the movement and listen to your body. Take deep breaths. Release tension and release emotions you've been holding in. Stretching outside with your feet on the earth is a great way to improve your mood. Stretch towards the sky, connect with the outdoors and ground yourself back to the earth.
Throughout the day, if you feel stressed, or overwhelmed, tired or just not yourself. Stretch it out, clear your mind and get back to your centre.
2. Yoga-
A great way to relax your mind and body. By practicing the deep breaths, movements, postures and meditation, you're able to dedicate time to being within. If your new to yoga, take a class or online video to learn the fundamentals and then you can take it anywhere. Don't be scared to practice outdoor yoga in every season. Dress appropriately and keep it simple.
3. Walking-
For best results walking should be done in silence. Quieting your mind allows time for reflection and the ability to work through problems and arrive at new ideas. I know this can be difficult for some. Being alone without distraction can be something you might have to learn. If you're finding it difficult then, by all means, listen to music, an audiobook. or favourite podcast. I encourage you to take a few minutes in total silence each day and slowly increase that time.
4. Art in Nature-
Pick up a camera or your phone and head outdoors in search of something. Challenge yourself to see the world in a different light. Look for unique natural finds like rock crevices and formations, fungi, ice, or reflections in water. Challenge yourself by looking for birds, or other wildlife, specific flowers or edibles in the spring etc. Try underwater photography if you have a capable camera.
Listen, Wait, Walk, Climb, or be still. Keep challenging yourself with new techniques, new places and different subjects.
5. Yardwork-
Even a small yard or patio can become an outdoor oasis. Spend time raking, moving wood, building, digging, shovelling, build a pond or chicken coop, decorate a front entrance or replenish planters. These are all ways to get you outdoors, move your body and check something off your to-do list. Look for new projects that can be done outdoors and require regular care.
Instead of looking at these chores as a burden, appreciate the time outdoors and a way to self-care.
---
---
Hey Friend
Just a quick fyi-
Each of the items listed above goes directly to my amazon affiliate links. There is absolutely no cost to, but I make a tiny commission from each purchase you make when you click through.
So THANK YOU for using my links!!! Happy Shopping 💕
– Cassandra