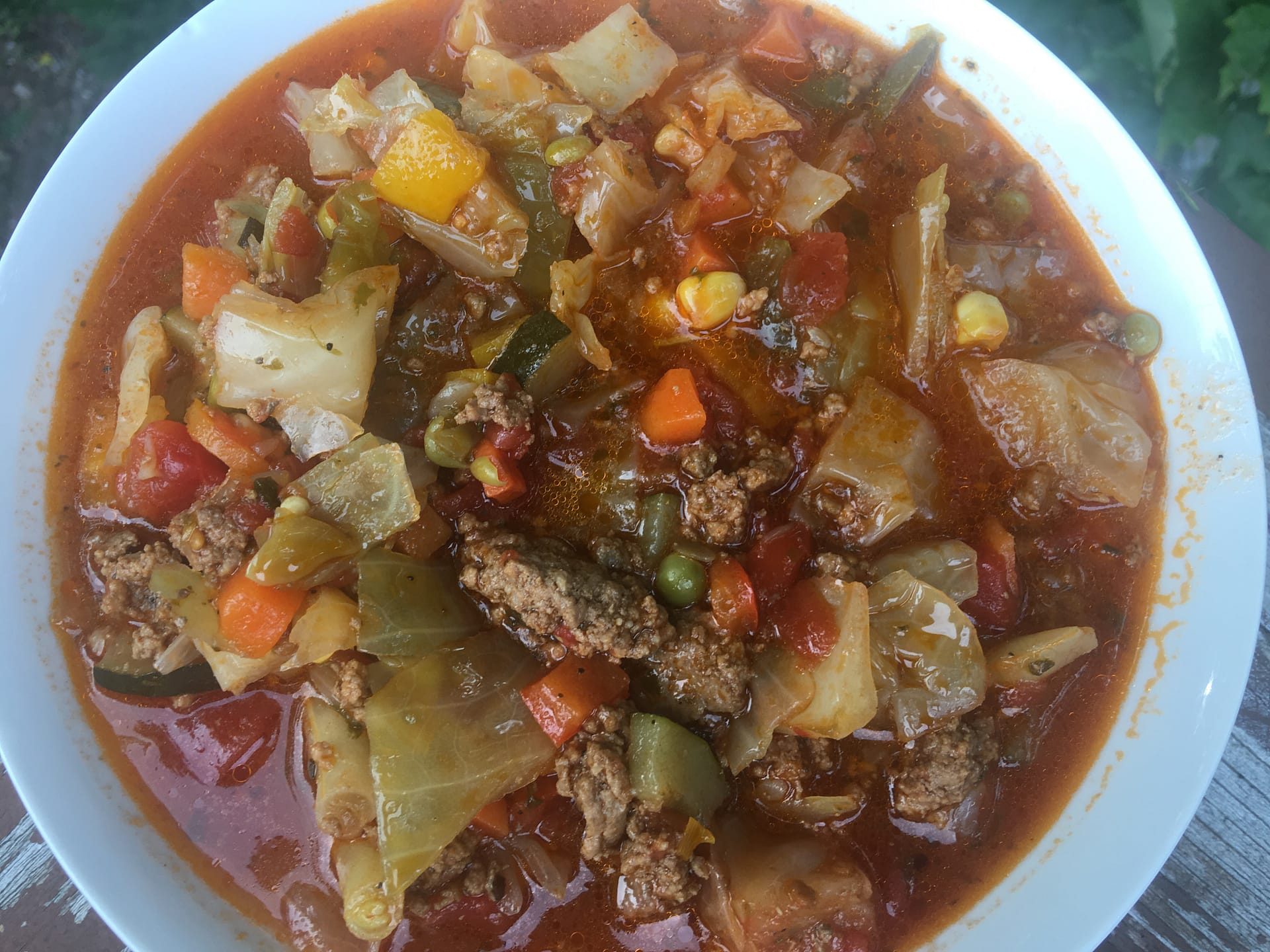 This recipe brings me right back to my childhood and grandma's kitchen.
A typical day at her house always meant a buzzing household and feeding a crowd. Everyone was welcome, and there was always enough food!
I'm not sure about her exact recipe, but I do know it would have been easy to prep, fed a crowd and left you smiling.
Feed a crowd with these great items.
Here's how I recreate Grandma's Hamburger Soup
Ingredients
2 lbs ground beef (she would have used medium, I tend to grab lean)
1 onion, diced
3 garlic cloves minced or equivalent garlic powder
3 stalks celery, diced 
1 can diced tomatoes or stewed tomatoes
1 small can / approx 4 Tbl tomato paste
1/2 bag frozen bag mixed vegetables (diced carrots, corn, beans)
1/2 Cabbage, chopped
1 carton beef broth
4-6 cups water
1- 2 tsp regular sugar or brown sugar
** Optional but something I typically add is 1 tsp Kik-A-Boo onion & garlic seasoning
salt
pepper
Directions
Brown beef and onion in a large stockpot. Drain excess fat off meat to desire (but remember grandma always said 'fat means flavour' 🙂
Add garlic and celery until softened.
Add reaming ingredients except for the water. *at this point, feel free to switch to a slow cooker for a carefree 3-4 hour simmer (add 4 cups water at this point if your slow cooking).
Let simmer for 30 minutes. Add water to the consistency you desire; we love the flavour of the broth, so we tend to add more water to the pot.
Some like it spicy; some like it sweet.
Check your flavour and add more salt, pepper, sugar, or some heat if desired, like cayenne. You can also save your spice for individual bowls by adding red chilli flakes. We prefer a sweeter soup as opposed to spicy (think cabbage rolls).
Cook for an additional 30 -60 min (the longer, the better!)
That's it. Throw if all in the biggest pot you have and let it simmer away until the kids get off the bus. A great meal to take for a day of ice fishing or winter adventure.
Tip- Make a double batch!