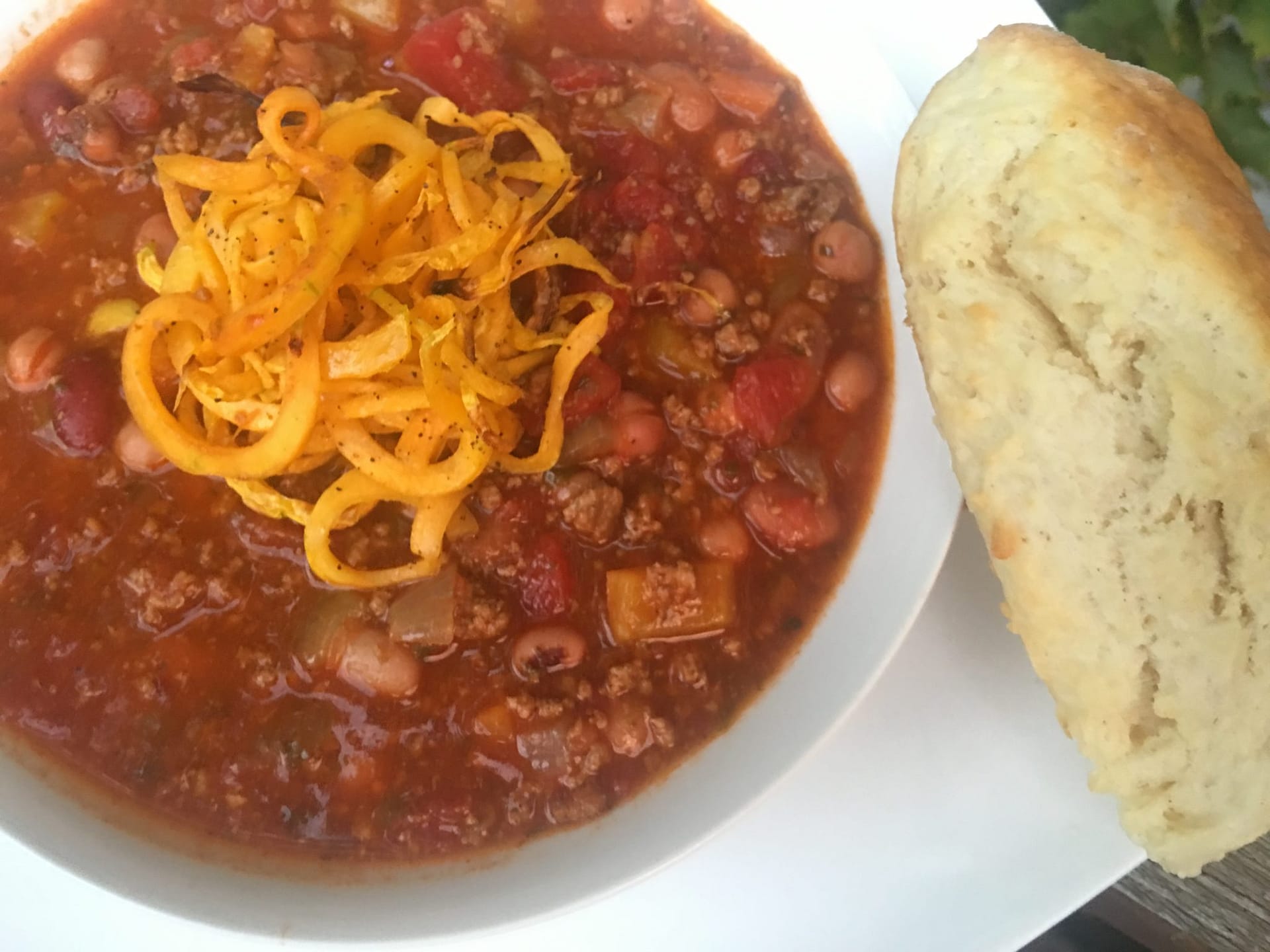 Comfort food at it's finest. Fall time temps and falling leaves send me into comfort food overload. Warm soups. stews and all the freshly harvested veggies I can get my hands on.
Weeknight Chili is perfect in a pinch cooking in less than an hour, or will happily simmer on the stovetop all afternoon.
Weeknight Chili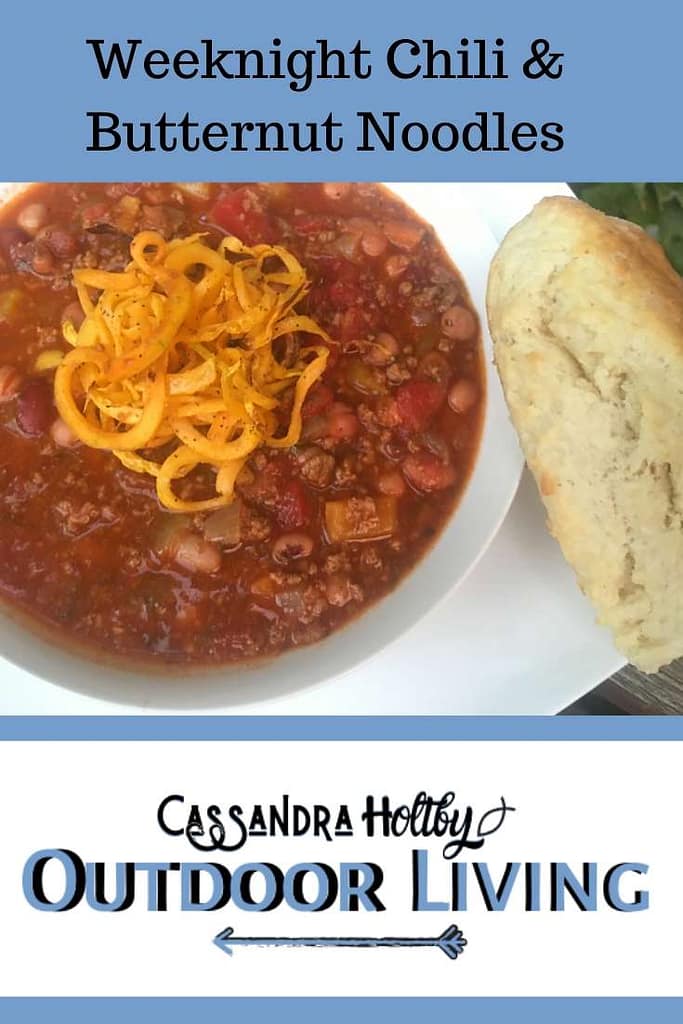 Ingredients:
4 slices bacon, cut into small pieces
1 large onion, finely diced
2 lbs of ground beef
1/2 – 1 jalapeno, finely diced (or a small half in this house!)
1 cup carrots, diced
1 cup celery, diced
1 cup zucchini, diced ** optional
4 cloves crushed garlic
2 large can diced tomatoes
3-4 Tbl Tomato paste
2 cups beef or vegetable broth
1 canned mixed beans
1 can black beans or white beans
2 tbs Chili powder (to taste)
1 tbs ground cumin (to taste)
2 tsp salt
1/2 tsp ground black pepper
1 tbs brown sugar
2 tsp oregano
Salt, pepper + chili flakes to taste
(Optional: Add 2 cups of fresh or 2 cubes of frozen spinach 10 minutes before serving.
Optional Toppings- Butternut Noodles, Cheddar Cheese, Sour Cream
Directions:
Place chopped (uncooked) bacon in a large pot or Dutch oven and cook over medium heat until crisp. Remove bacon to a paper towel-lined plate and drain all but 2 Tablespoons the bacon fat.
Add onion, cook until softened, about 3-5 minutes.
Add garlic and cook until fragrant (about 30 seconds).
Add beef, breaking apart with a spatula until browned.
Add all remaining ingredients — celery, carrots, beef broth, beans, tomatoes, tomato paste, jalapeno, beef broth, cooked bacon, spices and sugar.
Bring to a boil and cook 5 minutes, stirring frequently.
Reduce heat and simmer 30 minutes, uncovered, stirring occasionally.
Add optional zucchini and spinach. Cook an additional 10 minutes.
Ready to serve.
Don't forget extra ingredients including butternut noodles, cheddar cheese, sour cream. You can also serve with noodles, rice or biscuits.
Extra Step- Butternut Noodles
Ingredients:
1 large-top portion of butternut squash, peeled
2 teaspoons olive oil
1/4 teaspoon kosher salt
black pepper, to taste
Instructions:
Preheat the oven to 400F.
Lightly spray 2 large baking sheets with oil.
Trim the top off the butternut and peel the skin off.
Spiralize using the thickest noodle setting of your spiralizer. Roughly chop your spirals.
Transfer to the prepared baking sheets and drizzle with oil, add 1/4 teaspoon salt and black pepper to taste. Lightly toss to coat.
Roast until soft, 7 to 10 minutes.